Hostal HorizonteHistory of Hostal Fonda Horizonte
History of Hostal Fonda Horizonte
---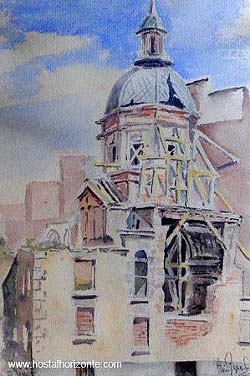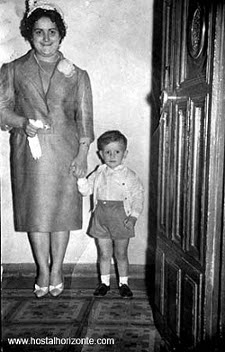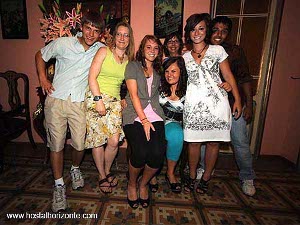 The history of the Hostel Horizonte is also the history of our family. Although the Pension Horizonte was founded in the year 1939 at the end of the civil Spanish war, years of extreme hardship for the inhabitants of Madrid, our family lived in the place that later would occupy the inn.
From then until now, many years, events, and travelers have come and gone. Because of Spain´s neutral position during the Second World War, many people that escaped from the countries occupied by germans, mostly French and Poles, arrived to the inn
From these refugees, we are left with the art of the Polish painter Gasoswky, that immortalized the ruins of the Church of San Sebastián which he painted from his room in the inn. Because a bomb fell in the church during the war it was partially destroyed. In the explosion the dome of the church fell onto the roof of the inn.
As time passed and the life in Madrid prospered once again, and since the inn was surrounded by theaters and festive areas, many of the artists that worked there stayed here with us, from directors of theater and actors to singers. All of these mixed with the Bishops and priests that visited the parish of San Sebastián and needed to spend a night in the capital.
In the same way, many bullfighters that came to fight bulls in Las Ventas got dressed in their "trajes de luces" here, because it was typical do so in this zone although today they arrive from the hotel that is in front of the inn.
Because of the Spain´s prosperity, many families sent their children to study in the capital, and many of them spent their years of study in our inn. They went on to become engineers, doctors, painters, and lawyers. Some were the friends of the writer and Nobel laureate Don Jacinto Benavente, who lived in the house next door. Consequently, a cultural atmosphere was created, within which many endless political discussions took place, especially about Franco.
The poet Don Juan Pérez Creus spent many years with us. He was a close friend of the celebrated writer Don Camilo José Cela, and though he was very old, he used to visit us from time to time and he would tell us stories of the past
And so it is that we arrive to the eighties in which Madrid experienced a time of splender during which the phrase "la movida" became well-known everywhere. We remember the eccentric Fanny Mc. Namara, who accompanied the famous cinema director Pedro Almodovar when they were both singers.
Now, it´s your turn to be part of our history.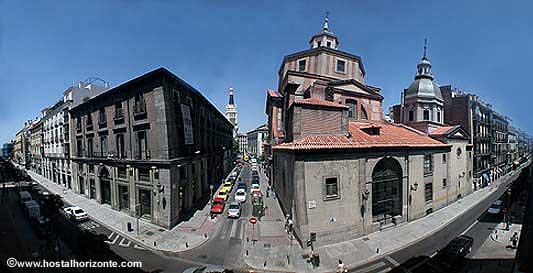 Hostel Horizonte views. San Sebastian Church